Saint Seiya: The Lost Canvas - Meio Shinwa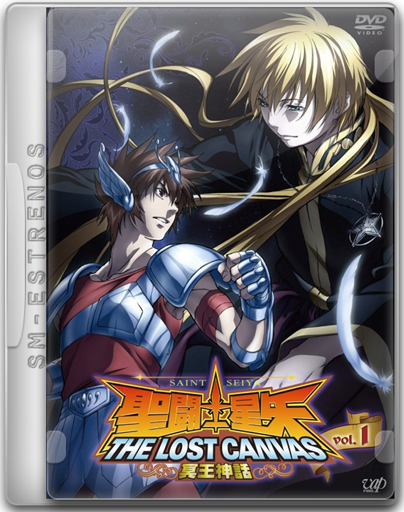 Ficha Técnica
Nombre:
Saint Seiya: The Lost Canvas - Meio Shinwa
Nombre Alternativo:
Los Caballeros del Zodiaco: El lienzo perdido - El mito del emperador obscuro
Nombre Japonés:
聖闘士星矢 THE LOST CANVAS 冥王神話
Categoría:
OVA
Género:
Acción, Fantasía
Año:
2009
Fuente:
DVD-Rip
Capitulos:
13
Fansub:
Japan Universe/Kurotsuki
Audio:
Japonés
Subtítulos:
Español
Calidad:
1280x720 & 840x470
Servidor:
Megaupload
Codec y contenedor:
MP4/x264 & AVI/XviD
Tamaño:
~ 300 MB & 200 MB
Duración:
~ 30 min. aprox.
Uploader:
OzkaaaR!
Sinopsis
La historia se hubica en la anterior guerra santa. Tenma y Alone son dos niños huérfanos que viven en un pueblo italiano. Su vida se ve interrumpida cuando Pandora se encuentra con Alone y le dice que el es la reencarnación de Hades, mientras tanto Tenma se encuentra con Dohko de Libra, quien lo lleva al santuario para convertirse en santo de Atenea. En el santuario Tenma se convierte en el Santo de Pegaso y se da cuenta que la reencarnación de la diosa Atenea es Sasha, la hermana menor de Alone. Poco tiempo después tres santos de plata regresan de una misión en Italia dando la noticia que Hades ha despertado en ese lugar y da comienzo la guerra santa.
Imágenes [JPU]
Imágenes [KtF]
Japan Universe (MP4/x264)
1280x720 [JPU] 300MB
Capitulo 01 :
[MU]
Promesa
:.:Capturas:.:
Capitulo 02 :
[MU]
El Despertar de Hades
:.:Capturas:.:
Capitulo 03 :
[MU]
Comienza la guerra sagrada
:.:Capturas:.:
Capitulo 04 :
[MU]
Guirnalda de oración
:.:Capturas:.:
Capitulo 05 :
[MU]
Rosas Venenosas
:.:Capturas:.:
Capitulo 06 :
[MU]
Funeral de Flores
:.:Capturas:.:
Capitulo 07 :
[MU]
El Arbol de los Frutos Sagrados
:.:Capturas:.:
Capitulo 08 :
[MU]
Un Agradable Día
:.:Capturas:.:
Kurotsuki (AVI/XviD)
840x470 [KtF] 200MB
Capitulo 01 :
[MU]
Promesa
:.:Capturas:.:
Capitulo 02 :
[MU]
El Despertar de Hades
:.:Capturas:.:
Capitulo 03 :
[MU]
Comienza la guerra sagrada
:.:Capturas:.:
Capitulo 04 :
[MU]
Guirnalda de oración
:.:Capturas:.:
Capitulo 05 :
[MU]
Rosas Venenosas
:.:Capturas:.:
Capitulo 06 :
[MU]
Funeral de Flores
:.:Capturas:.:
Capitulo 07 :
[MU]
El Arbol de los Frutos Sagrados
:.:Capturas:.:
Capitulo 08 :
[MU]
Un Agradable Día
:.:Capturas:.:
09 - Gran estrella
10 - Advenimiento